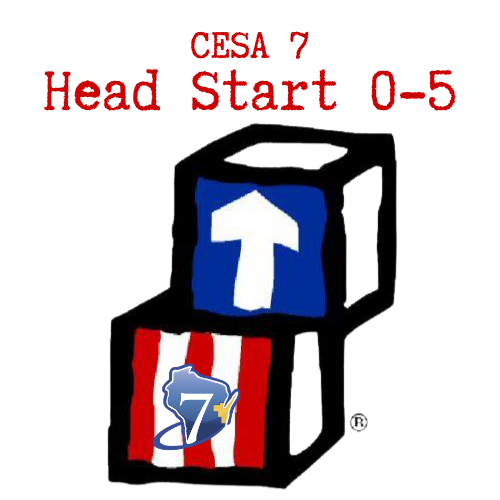 Building connections since 1965 - the mission of the CESA 7 Head Start 0-5 is to nurture children and empower families, creating the foundation to be successful in school and life by providing high quality, comprehensive support focused on early education, health services, and family services, in partnership with our Head Start Community.
HEAD START 0-5 is a comprehensive program designed to promote the continuous growth and development of children and families with a focus on school readiness and family wellness. The program serves prenatal mothers and children ages 0-5 primarily from low-income families and also serves children with special needs.
HEAD START 0-5 is a federally and state-funded program that allows the program to be entirely free to the families who qualify. Head Start 0-5 encourages parents to become involved with all program activities.
If you are interested in any of the services listed below, please contact us at 920/683-1960.
Are you interested in enrolling in Head Start?

PART-DAY OPTION
The Part-Day option is available to children ages 3-5 at the majority of our centers. The Part-Day option provides high-quality school readiness experiences 3.5 hours per day, Monday-Thursday during the school year.
EXTENDED DAY OPTION
The Extended-Day option is for children ages 3-5 in DePere, Howard-Suamico, and Manitowoc. These classes provide high-quality school readiness experiences 7.5 hours per day, Monday-Thursday during the school year.
Families in both Part-Day and Extended-Day receive 2 home visits with the teacher and 2 parent/teacher conferences each year with the goal of enriching both the children's and families' Head Start experiences. Transportation to and from the center is provided by Head Start 0-5 within designated bus routes.
HOME-BASED OPTION
Prenatal mothers, infants, and toddlers, and a small number of preschool-aged children are served through the Home-Based option. In the Home-Based option, families participate in one home visit per week for 1.5 hours and come to a central location for parent-child groups 2 times per month where they engage in fun learning activities together.
The Home-Based option runs year-round.
ADDITIONAL SERVICES PROVIDED
FAMILY SERVICES
Assistance is provided to families directly or by referral in areas such as family wellness, energy assistance, budgeting, parenting, education, transportation issues, and job training.
HEALTH/NUTRITION
Health screenings for children include a dental exam, physical exam, and vision, hearing, and nutrition screenings. Children are also served breakfast and lunch or lunch and a snack when they attend class.
EDUCATION
Head Start 0-5 services provides educational opportunities designed to meet the individual needs of children and families. Experiences are provided that promote growth in intellectual, social/emotional, and physical development.
SPECIAL NEEDS
Children with special-needs comprise at least 10% of total Head Start 0-5 enrollment. Children with special-needs are integrated into all classroom settings.
"Parent involvement makes Head Start 0-5 work." Parents are strongly encouraged to be involved as observers, volunteers, policy council representatives, workshop participants, and employees.
EARLY HEAD START
In the Green Bay area, the CESA 7 Head Start 0-5 program serves pregnant mothers, infants and toddlers through a partnership with Family Services of Northeast Wisconsin, Inc. to provide Early Head Start services.
SCHOOL DISTRICT 4K
CESA 7 Head Start 0-5 is also a 4K partner with DePere, Howard-Suamico, Manitowoc, and Two Rivers public schools.
CESA 7 HEAD START EMPLOYMENT APPLICATION FORM
CESA 7 Head Start is an Equal Opportunity Employer.



Head Start/Early Head Start Locations:
Manitowoc Office:
1130 South 9th Street
Manitowoc WI 54220
(920) 683-1960

Green Bay Office:
Family Services of Northeast WI
300 Crooks Street
Green Bay WI 54305
(920) 430-1153

Head Start/Early Head Start Staff:
Director
KIM LARSON
(920) 683-1960 ext 2103
klarson@cesa7.org
Office Manager
JANEL DIETRICH
(920) 683-1960 ext 2102
jdietrich@cesa7.org
Child Development Manager
KAYSIE KRUEGER
(920)683-1960 x. 2104
kkrueger@cesa7.org
Child Development Manager
MEGAN PROSSER
(920) 683-1960 ext. 2108
mprosser@cesa7.org
Child Development Manager
SHELLY BISHOP
(920) 683-1960 ext. 2106
sbishop@cesa7.org
Family Services Manager
MEAGAN CHRISTEL
(920) 683-1960 ext. 2105
mchristel@cesa7.org
Family Services-Home Based Services Manager
TYLER BROWN
(920) 683-1960 ext. 2127
tbrown@cesa7.org